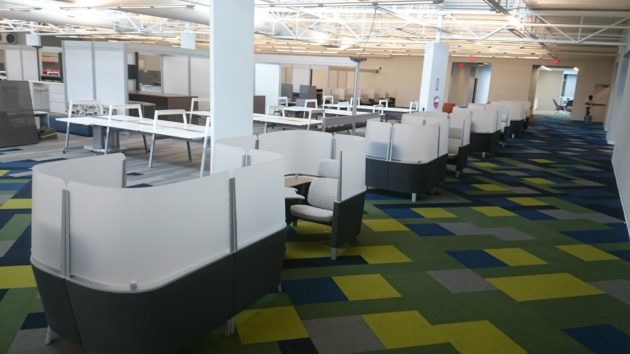 When we design the optimal acoustic environment, our consultants factor a variety of elements. Our sound masking installations absorb, block, and cover distracting sounds. We balance these elements to reduce conversational distractions while designing an open, aesthetically pleasing office.
Sound masking is the addition of an unobtrusive background sound, similar to airflow, to reduce the intelligibility of human speech and reduce distractions. The resulting environment leads to greater productivity and increased privacy and comfort.
When designing an optimal acoustic environment, our consultants typically consider a variety of elements referred to as the ABC's of acoustic design. In an ideal environment, the design elements would Absorb, Block and Cover sound. Consultants balance these elements to reduce conversational distractions while designing an open, aesthetically pleasing office.
How Effective Is Sound Masking?
In a laboratory study between 2006 and 2008, researchers found that the addition of sound masking increased speech privacy from 35% to 90%.

Researchers found that study participants had a nearly 10% improvement in their ability to recollect a series of numbers and words after the addition of sound masking.

In a 2008 survey, researchers found that workers lost an average of 21.5 minutes each day to conversational distractions.

48% of survey respondents reported that conversational distractions were the leading cause of workplace discomfort.
Sound Masking Examples
Fabric wrapped acoustic panels are a great solution for sound absorption and noise control for many different types of rooms. The panels are Class A fire rated. Panels that absorb sound, barrier and absorber panels with a mass vinyl sound barrier septum, high impact panels and tackable panels are used on many different types of rooms; restaurants, studios, sound recording, broadcast, auditoriums, conference rooms, churches and many more.

Acoustic Panel Kits are an easy solution for a variety of applications including Offices, Conference Rooms, Home Entertainment, Teleconferencing, Videoconferencing, Broadcast and Recording Studios, or anywhere that needs a quick and effortless acoustical solution. These panel kits install quickly to help absorb sound, reduce echo and improve speech intelligibility.

Foam Acoustic Panels are an excellent option for adding sound absorption to any application. They are available in an array of different colors, surface patterns, and thicknesses. Acoustical foam is a lightweight, fiber free alternative to other types of acoustical panels. Foam panels easily mount to existing walls or ceilings using adhesive.

Manufactured from fire rated acoustical foam, these acoustic panels may be used in public and private facilities.

PVC or Ripstop Wrapped Acoustic Panels are filled with sound-absorbing material and have washable surfaces. They are a wonderful solution for easy to clean noise control.

The PVC acoustic wall panels are used in gyms, swimming pools, dog kennels, factories and many other facilities where moisture or cleaning is a necessity.
The Ripstop Nylon version is used in gyms, multipurpose rooms and spaces where a durable fabric needs to be combined with a efficient acoustical material.